Water Pump Repair • Water Pump Installation • Cars, Trucks, SUV's & RV's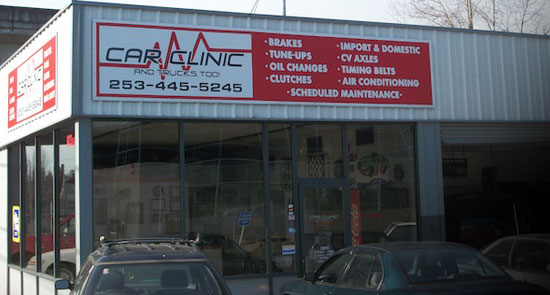 Water pumps circulate coolant through your engine, heating and cooling systems. Water pumps are commonly overlooked by drivers, and the results can be expensive and inconvenient as well as time consuming. Damaged water pumps can create squeaking and rattling noises. Your water pump can leak engine coolant and can contaminate your shaft bearings as well as leave large puddles of antifreeze wherever you park.
If your water pump becomes damaged your engine can overheat or completely fail. When a water pump fails or starts to leak so badly that it depletes your vehicles coolant entirely, your engine has no way of removing excess heat from the internal combustion of the pistons. This heat will continue to build until it cracks your engine head, or destroys the engine block itself. No matter what is damaged during an engine overheating accident, you can rest assured that it will not be easy or cheap to repair.
If you suspect your water pump is acting up, bring it into Car Clinic and Trucks Too. We'll quickly diagnose the problem and offer some affordable solutions. We'll stop your water pump from causing further damage and help keep your coolant supply at the level it needs to be. We install new and durable water pumps. We'll get your car, truck or van back on the road in no time. Restore your engine to a safe and manageable temperature with our water pump repair.
Stops squeaking and rattling noises while driving
Allows engine coolants to properly circulate
Stops the chances of further engine damage
Allows heating and cooling systems to work properly
Keeps engine temperatures at safe levels
Decreases the risk of engine overheating
Car Clinic and Trucks Too has been diagnosing and fixing water pump repair problems as well as coolant system leaks for over 50 years now. With our level of experience and our commitment to the highest in customer service and satisfaction, you'll drive away a lifetime customer. Let the Car Clinic and Trucks Too help repair all of your water pump problems.
There's a different way to get your car fixed. Contact your Automotive Expert at 253.200.1993, for your free estimate.
Car Clinic and Trucks Too
923 E Main Ave
Puyallup, WA 98372-3124
This email address is being protected from spambots. You need JavaScript enabled to view it.
T: 253.200.1993F: 253.845.4790
Business Hours
Monday – Friday: 8:30 am – 5:30 pm