Brakes • Brake Pads & Rotors • Brake Repair • Cars, Trucks, SUV's & RV's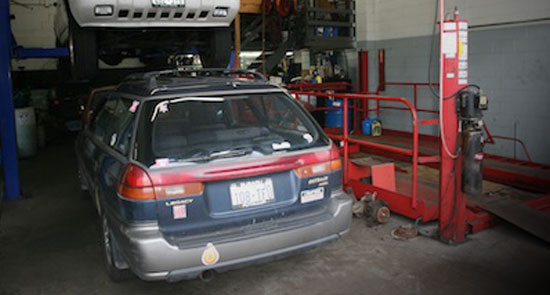 WE ARE BRAKE SPECIALIST WITH ONE OF THE BEST WARRANTY'S EVER! WE EVEN GUARANTEE NO SQUEAKS, WE PRIDE OURSELVES IN ONLY USING THE VERY BEST BRAKE PARTS AVAILABLE, YOUR CAR CAN RUN GREAT BUT IF IT DOESN'T STOP CORRECTLY………..LOOK OUT!
Do your brakes squeak or grind? Does it take your car longer distances to stop? If you're experiencing these or other brake problems, you need your brakes serviced. Brakes can be overused in a short period of time. Brakes can become worn down with frequent stopping. Brakes can develop problems if brake fluid is low. You need brakes that are reliable and safe. We offer brake service that will keep your brakes working properly. We carry 18 month and 18,000 mile warranties for your brake repairs.
Thorough Brake Inspection
Brake Repair and Installation
Brake Fluid Checks
Brake Pads and Brake Rotors
Air, Anti-Lock, Disc and Drum Brakes
Brake Pads
Brake pads stand between your brakes and brake rotors. If your brake pads become too thin, you'll have metal hitting metal. Not replacing brake pads will lead to more costly repairs for your brakes. Brake pads can develop brake dust. Too much brake dust causes brake noise and disruption of brake function. Overly worn brake pads can cause poor brake gripping, brake noise and brake failure. Trust your brake pads to Car Clinic and Trucks Too.
Brake Pad Inspection
Brake Pad Repair and Installation
Stops Brake Pad Vibration, Cracking and Heating
High Quality Brake Pads for Longer Lasting Brakes
Improves Gripping and Stopping Power
Brake Rotors
Most vehicle owners don't pay attention to their brake rotors. When you apply your brakes they grip onto your brake rotors. Brake rotors can become overheated. Brake rotor overheating is caused by riding the brakes. This can increase your brake rotor temperature up to 800 degrees. Brake rotor temperature shouldn't be more than 250 degrees. Avoid these problems with our brake rotors service.
Brake Rotor Repair and Installation
Brake Rotor Inspections
Improves Brake Function and Safety
Restores Stopping Power
Keeps Brake Rotor Temperature Cool
There's a different way to get your car fixed. Contact your Automotive Expert at 253.200.1993, for your free estimate.
Car Clinic and Trucks Too
923 E Main Ave
Puyallup, WA 98372-3124
This email address is being protected from spambots. You need JavaScript enabled to view it.
T: 253.200.1993
F: 253.845.4790
Business Hours
Monday – Friday: 8:30 am – 5:30 pm