About Car Clinic and Trucks Too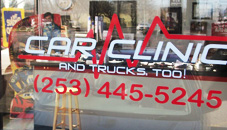 Since 2005 Car Clinic and Trucks Too has been Pierce County's automotive repair specialist We're your full service automotive repair and maintenance center. Today's vehicle owners are tired of being up sold on parts and services they don't need. We take you off the roulette wheel of up selling. None of our staff works on commission. We never recommend parts and services you don't need. At Car Clinic and Trucks Too you can relax when it comes to price. We do all of our work on a flat rate. You'll know what the price is before we start. It's one of the many reasons female and elderly clientele keep coming back.
Affordable Automotive Repair Services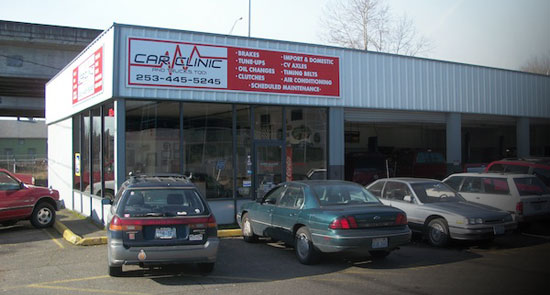 At Car Clinic and Trucks Too we offer affordable automotive repair services. Customers enjoy getting their cars, truck and vans repaired for reasonable prices. We believe you should get the automotive repairs you asked for. You won't get "surprises" when it comes to repairs, maintenance and price. No appointment is necessary. We offer full service automotive repair and maintenance services.
Free Estimates
Brake Repair and Installation
Transmission Repair and Replacement
Clutch Repair
Vehicle Suspension Repair
Water Pumps Repair
Alternators and Starters
Foreign and Domestic Vehicles
Oil and Transmission Fluid Changes
Timing Belt Repair
Truck Repair
Automotive Experience
Our knowledgeable staff has over 50 years of automotive repair and automotive maintenance experience. They're highly experienced in dealing with repairs and maintenance for foreign and domestic vehicles. We employ ASE Certified Technicians to repair and maintain your vehicles. It doesn't matter if you have a new or used vehicle. Our experienced staff will solve your vehicle problems in a timely manner.
Warranties
At Car Clinic and Trucks Too we stand behind our work. We offer 3 year and 36,000 mile warranties. These warranties aren't available for oil changes. Contact us if you have questions about the details.
Service Areas
We service Pierce and South King County. Some towns we service are Edgewood, Orting, Puyallup and Sumner.
There's a different way to get your car fixed. Contact your Automotive Expert at 253.200.1993, for your free estimate.
Car Clinic and Trucks Too
923 E Main Ave
Puyallup, WA 98372-3124
This email address is being protected from spambots. You need JavaScript enabled to view it.
T: 253.200.1993
F: 253.845.4790
Business Hours
Monday – Friday: 8:30 am – 5:30 pm